I do not know how to sew. I have a machine sitting somewhere in my mess of projects in the garage that I have yet to use. I've always wanted to learn but with taking care of my home and kids and just life in general I feel like I haven't had the time to learn yet. But while working on Cakes's room I knew I wanted to make some throw pillows for her bed. I bought 2 square pillows inserts from
Ikea
for $1.99 and an oblong insert from
Walmart.
I think it was about $3. Then it was off to the fabric store. I purchased 4 different fabrics, 1 yard each
(I was thinking of maybe using a solid print on the backs of a couple pillows but changed my mind).
I just love, love, LOVE the owl print. Too sweet!
Using steam-a-seam, scissors, and an iron, I
hacked
made 3 pillows in under an hour. It probably could go faster if you're not screwing up repeatedly like I did! I still need to redo the owl print pillow. I was getting lazy and it turned out more like a pillowcase than a throw pillow. It's too baggy. But I was done for the day.
Originally my plan was to throw the pillows in her crib when the bed was made, but while checking out Hi Sugarplum's blog I saw another awesome idea. Using throw pillows, a sheepskin rug, and a breakfast tray,
Cassie made an adorable art station in the corner of her daughter's room
. You have to check it!
Now Cakes is only 15 months old so an art center is a bad idea. But she has an awkward corner in her room that was just begging for something to be put in it. So I decided to make her a reading corner. Her bookshelf is on my "to-do" list, but it will be the closest piece of furniture to that corner in her room, besides her bed, so a reading corner seemed practical. I didn't want to spend the money on a sheepskin rug, so instead I chose a thick and fluffy fleece fabric from Hobby Lobby which was 30% off, costing me about $7! It is the softest thing EVER. I tucked it in her corner and plopped the pillows on top and
voila!
A reading corner!
It's not finished, but close. I'm planning to cut the straight squared edges of the fleece to give it softer lines, maybe a swooping edge of some sort, and I'm also thinking of making it a little thicker by adding some quilt backing and sewing a bottom on. Just waiting to figure out that tricky sewing machine! I guess I can always do it by hand too. Now
that
I can do!
So what do you think? Any ideas of how else to spruce up Cakes's reading corner?
(Sorry for the poor pictures, my digital camera is having issues still)
Be sure to comment, I love to read what you have to say!
I linked up with:
Funky Junk Interiors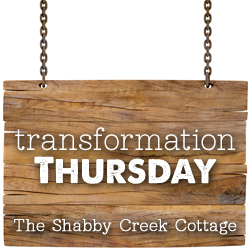 The Shabby Creek Cottage