Come and knock on our door....we've be waiting for you...
Sorry, when I titled this post that was the first thing that popped in my head! I had to get it out.
Anywho, I have been working on making a small sitting area on our back porch outside the slider door to my bedroom. Hubs and I like to sit out back in the evenings when the kids are in bed and relax, but it's not really a relaxing kind of spot. Just bare. So I snagged a small kids table from my garage that my sister-in-law passed on to us after her kids outgrew it and my son was born. It used to sit in the house but he already has a small table and chairs set and it was really just taking up space. Plus. there were no chairs to go with it. Here it is in it's original state:
And here is a shot of it after I zapped some life into it:
Pretty sweet, huh? It was super easy and only took about an hour to do
(minus the time it took for me to run back to the store for more paint!)
I started out by sanding the top with an orbital sander to remove some of the finish and help the paint stick. And then did a quick pass on the edges and legs with a sanding wedge to scuff them up a little. After wiping it down I went to town with the spray paint. The color is Rustoleum's Aqua in satin. Hubs wanted something "beach-y". I did the legs and under parts of the table that would show first, giving it about 2 quick coats.
And then I flipped it over and did several coats on the top. At least 5. It didn't need that many, but my husband was being weird about it. After it dried I added a protective coat of spray to repel water.
And here it is in its final resting place! So cute, right?
I painted these clay pots below with some leftover paint from my sons room that we had sitting in the garage and planted some of my herbs in them
(basil up top, mint down below)
. And I gave the plastic flower box a coat of paint using the leftover Aqua paint from the table. The plant stand I got from Ikea years ago and has been collecting dust in a closet until now. My trigger finger is
itching
to paint it! But for now it'll remain this way.
I have more ideas for this space to come, including cushions for the chairs, a mirror for above the table area, a rug, and something cute to place on that adorable table. So here is a wide shot of this part of the patio outside my bedroom door. Sorry for the dirty patio. I didn't
want to
have time to sweep it off.
So, what do you think of my revamped kid-turned-patio end table? Any suggestions for outdoor decor?
I linked up with:
Funky Junk Interiors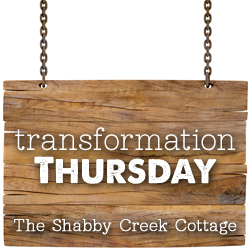 The Shabby Creek Cottage